The Top iPhone 5 Accessories That You Just Need To Purchase
Whenever Apple releases a brand new model of the iPhone into the market, mobile phone accessories manufacturers cash in on the great marketing profitability of the smartphone, and a huge number of products and accessories for the iPhone tickle in. Sometimes these accessories are right on and justify their use, sometimes they need to be tweaked to match your style, while at other times they might be off, and have little actual use. In this review, we take a look at the top iPhone 5 accessories and iPhone 5 cases, which can help you customize the use of your handheld device to your liking, and also to increase its functionality as you desire and see fit.
iPhone 5 cases
Spigen's Calfskin Genuine Leather iPhone 5 Cases ($29.99)
As the name says, the Calfskin Leather Case for the iPhone 5 is made from genuine leather, and is designed in a unique pouch style. The inner side of the Calfskin Leather Case is made from a soft, felt-like material, which is different in touch and feel from ordinary cloth. This help keep your iPhone 5 protected from unwanted scratches, dust, and any other form of physical damage. The top opening of the case is fastened by a magnetic clasp, which slides down into place once to put your iPhone 5 in, and holds it securely, using the magnetic attachment. The Calfskin Genuine Leather Case for the iPhone 5 is available for $29.99. For further details, click here.
Griffin Survivor ($49.99)
The design and built of Griffin Survivor comply or even exceed US Department of Defense Standard 810F. It is made to protect your iPhone 5 from dirt, sand, rain, shock, vibration and other environmental factors. Here's a link to Griffin's online store.
Speck PixelSkin HD (29.95)
Speck PixelSkin HD adds stylish look and extra protection to your iPhone. It has a raised front bezel that protect the retina display against scratches caused by other surfaces or objects.
Scosche kickBACK sport g6 ($29.99)
This shock-resistant iPhone 5 case produced by Scosche is made from durable materials that protects your phone from knick and knocks. It has a sporty design makes your iPhone 5 look more appealing. It also sports a kickstand which is ideal for video playback and FaceTime video call.
iPhone 5 Screen Protectors
Spigen SGP GLAS.T Screen Protector For The iPhone 5 (A$39.99)
What's really special about the Spigen SGP GLAS.T Screen Protector is really made from actual glass, rather than the typical plastic that you see. It has an oleophobic coating, just like on the iPhone 5. As such, it is quite different from the other types of screen protectors which you commonly see. It uses Silicon adhesion to stick to the screen of the iPhone 5, and what sets this screen protector apart from the more common models is that it maintains the unique sense of touch of the touchscreen of your smartphone, that is, your touchscreen feels the same, even when you are using it through the Spigen SGP GLAS.T Screen Protector. Without a doubt, this will be the best 'feeling' touch protector that you will use for your iPhone 5. The Spigen GLAS.T Apple iPhone 5 Screen Protector can be purchased for AU $39.99 at Ebay Australia.
Zagg ($14.99)
Zagg's screen protectors is one of the highest rated brands in terms of quality. Zagg's iPhone 5 screen protector is made of military grade materials that provides maximum protection. It also has unique properties that provides self-healing qualities.
Other screen protectors that are available includes Halo ($5.95), ScreenGuardz ($39.95) and Clarivue ($14.99-$19.99)
Mount
STEELIE Mobile Device Holder Phone Mount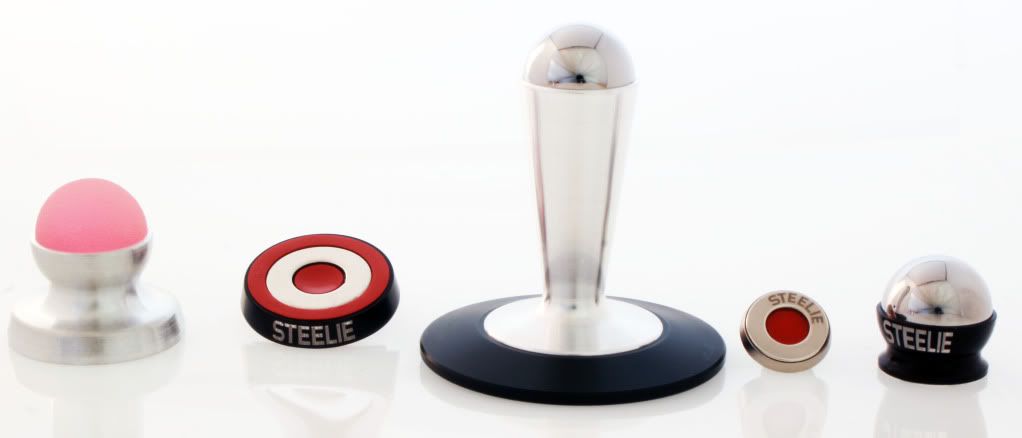 Steelie, a mobile phone accessory company, develops magnetic mobile mounts for phones and tablets. The magnets come with 3M adhesives on one side, which attach them to the device or device case. Quite contratry to popular belief, and according to Macworld, magnet based accessories are safe to use, and pose no threat of scrambling interior electronics. Once you get your set of Steelie Phone Mounts, all you have to do is attach the magnets to the back of your phone, find a suitable place to fix your mount stand, and you are ready to go. The magnet attached on the back of your iPhone 5 will be attracted to the mount stand, and will stay afixed to it, while providing rotational motion if you desire. You can use the STEELIE Mobile Device Holder Phone Mount in your car where your phone acts like a GPS, in the kitchen on the fridge, or wherever you feel comfortable using your phone. To find out more about this product, watch the YouTube video or visit Steelie.com to order one for your iPhone.
There you have it folks – our list and review of the top iPhone 5 accessories. Australia based customers can visit web-based stores like Ebay Australia, JB Hi-Fi, and Dick Smith to order these products online. Happy shopping!